This article needs improvement. You can help Star Trek Wrath of Gems Wikia by expanding it.
General Strategy
These are strategies that hold-true regardless of gameplay-styles, but are important to STWOG...
Be slow
Since there is a "healing" aspect to many of the game-elements, and that healing depends upon physical wall-time expiring, it is actually better to be a SLOW player than a fast one...
Accept the bugs
This game was/is not coded perfectly... There have been many occasions that i was shaking my head and saying WTF at the screen... in my case, usually the errors worked out in my favor - but occasionally it did not... try to be zen about it...
I used to work in software development and we had a fun-expression: "It is NOT a bug, it is a FEATURE..." we used whenever something unexpected happened in our software...
Try picking on weaker opponents
If you are given the chance to battle someone/something that is significantly weaker than you - take it...
Bail out if you are gonna Lose
Since there is no real penalty for the game "crashing", you can use that to your advantage...

If you are about to lose an Arena-battle, then just jump out of the game and kill-it from your task-manager (ie: crash)... The next time you start the game/app it will put you right back at a fresh-try against your opponent...
This can work in Event-battles also, however i am not sure whether you would lose any trophy points like in Arenas... also, the clock-timer did not reset if you retried directly after a loss - so bailing out of the game might change your points-awarded (to more, actually) if you were re-playing a battle...

This was mentioned elsewhere LINK but it was oftentimes useful to bail out of the prize-awards if you were unsure whether you wanted to collect them just-then...
The tips do repeat a fair amount and have a fair number of general comments, BUT...
The tips you receive that are specific, will be specific for your upcoming battle or mode - namely: Crew, Ship, or Diplomacy...
The tips also might remind you of strategies that you have optimized upon during your specific gameplay... For instance, there is one about "always attack the strongest opponent first" - but when there are 3 characters to battle i find that targeting the RIGHT-most character (of any two equal-level) is more effective for my gameplay-style...
---
Collection Strategy
The Numbers
The bare-minimum number of characters and starships you will ever need is 6 and 2... Once you have decided WHICH ones you like - the truth is you could probably live with only those 6 character and 2 ship slots...

NB: There are currently only two characters who have 3-possible-versions... Thus, you could conceivably have the following teams:
As described above, each differently tiered (star) character is independent and levels-up on its own terms...

Once upon a time, it was probably possible to collect a character TWICE - but I have never actually played against any Crew-team that had more than 3 characters...

The reason I believe that it used to be possible is because I have seen a 4-player team occasionally inside the Alliance-listings...
I assume that my viewing is actually just a BUG of the viewing process, rather than a bug that is actually playable for that player...

The Recruit Area will hold any/all ships or characters for a week...

Unfortunately, as a newer player, the game is fairly boring and so it is sometimes easy to let this time-of-holding, EXPIRE...
If you do not plan on using any of the recruited characters, it is very beneficial to sell them for the crystals-earned...
Way back when, I think I did let them expire and I think that by-doing-so - I was not given any crystals for their sale...

You have been warned

After spending some gold on single expansion slots for either characters or starships, the cost for further expansion-slots increases (but not doubles) so you can buy slots 2-at-a-time...

The single-slot costs are: Tbd...
The double-slots costs are:
The Choices
Most newer players will just collect/upgrade whatever characters/starships they stumble-across normally

Except for some rare exceptions, it is almost always more-beneficial to collect/upgrade higher tiered crew/ships...
For Events, it is entirely possible to complete all levels of every event (even Hard.Legendary) using three Tier 1 maxxed-out characters and a ship...
For Arenas, it becomes impossible to win beyond certain-limits without having higher-tiered/higher-levelled items...

There are some characters/ships that are higher-probability to receive for various reasons... If you are a newer player, these higher-probability character recruitments are critical to move forward in the game... Some of my personal-experiences are as follows:

If you use the WHEEL a lot, the characters you receive are fairly consistent after awhile...
The wheel never has given away a ship, afaict...
Depending upon which Events you play (and how far you get), you can receive the following characters/ships fairly easily...
Depending upon which Storyline you start with (and how far you go thru the story), you will receive the following characters/ships...

Category:TOS Ship - 4 T-1 TOS Federation SO/EN Original Enterprise , 4 T-1 TOS Klingon SO/KBP Klingon bop , 2 T-1 TOS Romulan SO/RBP Romulan bop ,
Category:TOS Crew - 2*Mister Scott, 2*Lt. Uhura, Captain Kirk, 2*Lt. Sulu, 2*Mister Spock, 2*Doctor McCoy, 2*Ensign Chekov
Category:TNG Ship - 4 T-1 TNG Federation SN/END Next Enterprise , 5 T-1 TNG Klingon SN/KV Ship-Vor'Cha , 3 T-1 TNG Cardassian SN/CH Hideki ,
Category:TNG Crew - 2*Cmdr. Riker, 2*Lt. La Forge, 2*Captain Picard, 2*Lt. Data, Lt. Worf, 2*Counselor Troi, 2*Dr. Beverly Crusher,
You will also get lots of basic/blue recruitment packs, both TNG and TOS which will adjust the lists given above by random-amounts of extra characters/starships...
---
Ship Game Strategy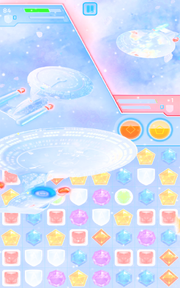 You do not need to have a perfectly repaired (100%) ship to start a battle...
---
Crew Game Strategy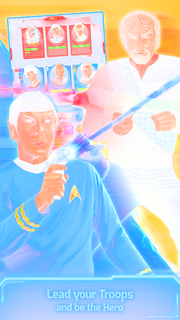 You do not need to have a perfectly healthy (100%) crew to start a battle...
You do not need to have all three crew-slots filled to start a battle...
However, you DO need to have each of your crew-slots filled with character at greater-than-25% health to start a battle... At least, I got a message saying that when one of my crew members was too-weak and i had forgotten to heal him...
---
Diplomacy Strategy
You do not need to have a perfectly healthy (100%) character to start a battle...