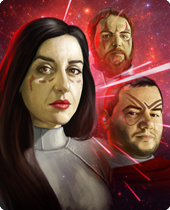 This page describes the Story called Vor'Cha for TNG characters and starships. This Story contains 8 missions.
 	 	 	

 		 		 		 	

 



It yields 30 Rewards.
Unlike an Event (from the Events Sequence), the storyline is fundamentally a series of Easy missions designed to get the player used to the game.
Storyline
This is Act FOUR of the five acts in the Category:Story TNG series.
Trivia
ck=1-8
| Lvl # | Mission Title | Level Type CrewFight/ Diplomacy/ ShipBattle | Storyline | #Prizes |
| --- | --- | --- | --- | --- |
| 1 | Distrust | D | Against all odds, the Enterprise reaches the system of Nodroz's descendants. Sadly, they are unwilling to help. | 4 |
| 2 | Condemned! | D | Picard tries to establish a dialogue with the leader, but it is cut short. | 4 |
| 3 | Ambush | C | On their way back to the shuttlecraft, the team realizes that no matter how advanced a race is, evil can infiltrate it. | 3 |
| 4 | Hope | C | Finally, Picard and his team find someone willing to help. But she also has a story to tell... | 4 |
| 5 | All the Truth | C | Nuella tell the team about Nodroz, but something isn't right... | 4 |
| 6 | Stubborn as a Klingon | C | Klingons aren't quick to forgive. They will follow you throught the galaxy just to keep their honor. | 4 |
| 7 | First we fight... | S | Kulga is back and wants revenge for the last encounter. Be prepared! | 3 |
| 8 | Chapter 8 | D | Now that everyone is willing to talk, Picard must convince the Klingons to help. | 4 |
| Lvl # | Mission Title | Level Type CrewFight/ Diplomacy/ ShipBattle | Storyline | #Prizes |
Enemies
Trivia
ck=1-8
Lvl #
Mission Title
CrewFight/ Diplomacy/ ShipBattle
EnemyDetails
Enemy(ies)
1
Distrust
D
Level 19 no-skills wrybop-12/12/8/4/4/4
T-2 L'berch
2
Condemned!
D
Level 21 no-skills wropyb-13/12/9/5/4/4
T-2 T'Nesseam
3
Ambush
C

Lvl-22 3p3r2w

wrybop-14/14/9/5/4/4

---

Lvl-19 2r2b2w

rwypbo-13/11/7/4/4/4

---

Lvl-19 3b3w

rwypbo-13/11/7/4/4/4
T-2 L'berch,
T-1 Pretorian,
T-1 Pretorian
4
Hope
C

Lvl-22 4r3w

rwypbo-15/12/8/5/5/5

---

Lvl-21 3b2r2w

rwypbo-14/12/8/5/4/4

---

Lvl-21 4w2b1r

rwypbo-14/12/8/5/4/4
T-1 Pretorian,
T-1 Pretorian,
T-1 Pretorian
5
All the Truth
C

Lvl-24 3w3r2b

rwypbo-16/13/9/5/5/5

---

Lvl-23 3r2b2w

rwypbo-16/13/9/5/5/4

---

Lvl-22 4r3b

rwypbo-15/12/8/5/5/4
T-1 Pretorian,
T-1 Pretorian,
T-1 Pretorian
6
Stubborn as a Klingon
C

Lvl-26 4o2r2y

wobpry-17/14/7/5/5/5

---

Lvl-25 3p2w2r

bpyowr-16/14/9/5/5/5

---

Lvl-24 3y2r2b

wboyrp-15/14/5/5/5/4
T-1 W'Sira,
T-1 T'Korta,
T-1 Cho'Ta
7
First we fight...
S
Level 22 c/w-1/0
2y2b1p wgr-13/14/18
1 Weapons tbd... TNG Lasers Kulga
T-2 Ship-Vor'Cha
8
Chapter 8
D
Level 31 3p3b2w rwypbo-20/17/11/6/6/5
T-2 Kulga
Lvl #
Mission Title
CrewFight/ Diplomacy/ ShipBattle
EnemyDetails
Enemy(ies)
Scoring/Rewards/Prizes
Trivia
ck=1-8
| Mission # | Total # Prizes | 1st Win Prize | 2nd Win Prize | 3rd Win Prize | 4th Win Prize |
| --- | --- | --- | --- | --- | --- |
| 1 | 4 | 1 1‑Pack [blue] | 600 Dilithium [purple] | 1 1‑Pack [blue] | 100 Coins [gold] |
| 2 | 4 | 600 Dilithium [purple] | Dr. Beverly Crusher | 1 1‑Pack [blue] | 600 Dilithium [purple] |
| 3 | 3 | 1 1‑Pack [blue] | -> | [[]] 1 T-1 TNG Federation SN/END Next Enterprise | 600 Dilithium [purple] |
| 4 | 4 | [[]] 1 Weapons tbd... TNG Lasers | 1 1‑Pack [blue] | 1 1‑Pack [blue] | 600 Dilithium [purple] |
| 5 | 4 | 600 Dilithium [purple] | 1 1‑Pack [blue] | 100 Coins [gold] | 1 1‑Pack [blue] |
| 6 | 4 | 1 1‑Pack [blue] | 600 Dilithium [purple] | 1 1‑Pack [blue] | 600 Dilithium [purple] |
| 7 | 3 | [[]] 1 T-1 TNG Cardassian SN/CH Hideki | 1 1‑Pack [blue] | <- | 600 Dilithium [purple] |
| 8 | 4 | 600 Dilithium [purple] | 1 1‑Pack [blue] | 600 Dilithium [purple] | 1 1‑Pack [blue] |
| Mission # | Total # Prizes | 1st Win Prize | 2nd Win Prize | 3rd Win Prize | 4th Win Prize |
V·Up·E
Game Menus
Calendar
All Events
Story-TNG
Story-TOS
Story Sequence
Events Sequence
Arena Sequence
Main Menu
Crew Area
Stardock Area
Recruit Area
Archive Area
Alliance Area