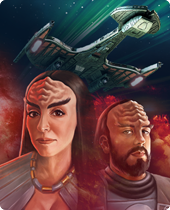 This page describes the Story called First Stop: Klingons! for TNG characters and starships. This Story contains 7 missions.
 	 	 	

 		 		 		 	

 



It yields 25 Rewards.
Unlike an Event (from the Events Sequence), the storyline is fundamentally a series of Easy missions designed to get the player used to the game.
Storyline
This is Act TWO of the five acts in the Category:Story TNG series.
Trivia
ck=1-7
| Lvl # | Mission Title | Level Type CrewFight/ Diplomacy/ ShipBattle | Storyline | #Prizes |
| --- | --- | --- | --- | --- |
| 1 | Defining a Strategy | D | After the encounter with the Cardassians, Picard considers how Nordroz can help, but Nodroz has his own plans. | 4 |
| 2 | Problems at Engineering | D | The crew needs to replicate the technology of Nodroz's people, but first LaForge and Nodroz must reach an understanding. | 4 |
| 3 | The Cave | C | With the new scanner the crew discovers traces of the ancient technology inside a cave. A group is created for reconnaissance. | 4 |
| 4 | A quick-tempered Klingon | C | The ground team finds more than they bargained for. | 4 |
| 5 | Klingon's Rage! | S | The previous incident forces the Enterprise to engage a Klingon vessel in combat. | 2 |
| 6 | Reinforcements | S | The crew of the Enterprise is going to discover that Klingons rarely travel alone. | 3 |
| 7 | Forcing Dialogue | D | After defeating two Klingon vessels, Picard tries to explain the situation to the Klingon Captain. | 4 |
| Lvl # | Mission Title | Level Type CrewFight/ Diplomacy/ ShipBattle | Storyline | #Prizes |
Enemies
Trivia
ck=1-8
Lvl #
Mission Title
CrewFight/ Diplomacy/ ShipBattle
EnemyDetails
Enemy(ies)
1
Defining a Strategy
D
Level 6 no-skills owpybr-6/6/4/3/3/3
T-1 Nodroz
2
Problems at Engineering
D
Level 8 no-skills owpybr-7/7/4/3/3/3
T-1 Nodroz
3
The Cave
C

Lvl-8 2r1w1y

bpoywr-7/6/4/3/3/3

---

Lvl-7 1p1b1o

oywpbr-6/6/5/3/3/3
T-1 Lt. Worf,
T-1 Cmdr. Riker
4
A quick-tempered Klingon
C

Lvl-8 2o1r1y

wobpry-7/6/3/3/3/3

---

Lvl-6 2b1r

wboyrp-6/5/3/3/3/3

---

Lvl-7 1p1w1r

bpyowr-6/6/4/3/3/3
T-1 W'Sira,
T-1 Cho'Ta,
T-1 T'Korta
5
Klingon's Rage!
S
Level 10 c/w-0/0
2y1b1o wgr-6/6/9
no-weapons no-crew
T-1 Ship-Vor'Cha
6
Reinforcements
S
Level 11 c/w-1/0
1y1p wgr-9/10/10
1 Weapons tbd... TNG Lasers Cho'Ta
T-1 Ship-Vor'Cha
7
Forcing Dialogue
D
Level 12 no-skills rwypbo-9/8/5/3/3/3
T-2 Kulga
Lvl #
Mission Title
CrewFight/ Diplomacy/ ShipBattle
EnemyDetails
Enemy(ies)
Scoring/Rewards/Prizes
Trivia
ck=1-8
V·Up·E
Game Menus
Calendar
All Events
Story-TNG
Story-TOS
Story Sequence
Events Sequence
Arena Sequence
Main Menu
Crew Area
Stardock Area
Recruit Area
Archive Area
Alliance Area