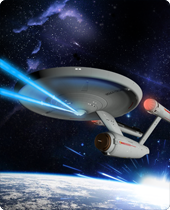 This page describes the Story called Exposing The Truth for TOS characters and starships. This Story contains 7 missions.
 	 	 	

 		 		 		 	

 



It yields 27 Rewards.
Unlike an Event (from the Events Sequence), the storyline is fundamentally a series of Easy missions designed to get the player used to the game.
Storyline
This is Act FIVE of the five acts in the Category:Story TOS series.
Trivia
ck=1-7
| Lvl # | Mission Title | Level Type CrewFight/ Diplomacy/ ShipBattle | Storyline | #Prizes |
| --- | --- | --- | --- | --- |
| 1 | A Closer Look | C | The Enterprise reaches the space station, where the crew is given clues about Commodore Anton's whereabouts. | 4 |
| 2 | Closing In | C | The team finds the entrance to the secret base, but it won't be easy to access. | 3 |
| 3 | A D7 Problem | S | Enemies are everywhere. While the ground team enters the base, the Enterprise receives an unpleasant surprise. | 4 |
| 4 | Probing the Enemy | D | The team must find a way to enter the base quickly, before the enemy is alerted to their presence. | 4 |
| 5 | Confronting Corruption | D | Finally the root brain of the plot is revealed, but he's not going to cooperate. | 4 |
| 6 | Phaser Negotiations | C | The enemy is trapped and has nothing to lose. He's more dangerous than ever, and Kirk and his crew must be cautious. | 4 |
| 7 | Final Encounter | S | The final battle is about to begin. Good luck! | 4 |
| Lvl # | Mission Title | Level Type CrewFight/ Diplomacy/ ShipBattle | Storyline | #Prizes |
Enemies
Trivia
ck=1-7
Lvl #
Mission Title
CrewFight/ Diplomacy/ ShipBattle
EnemyDetails
Enemy(ies)
1
A Closer Look
C

Lvl-26 3o2p2w

owpbyr-17/16/11/5/5/5

---

Lvl-25 3b2w2o

wobrpy-16/14/7/5/5/5

---

Lvl-25 3r2y2o

rybpwo-17/14/11/5/5/4
T-1 Lt. Alvaro,
T-1 Decanus,
T-1 Optio
2
Closing In
C

Lvl-28 3r2p2b

opbryw-19/16/12/6/6/5

---

Lvl-27 3r3o2y

rynpwo-18/15/12/5/5/5

---

Lvl-26 3b3w2o

wobrpy-17/14/7/5/5/5
T-1 Pilus Prior,
T-1 Optio,
T-1 Decanus
3
A D7 Problem
S
Level 27 c/w-2/0
2p2b1y wgr-18/21/23
1 Weapons tbd... TOS Lasers Inagh Batahr
T-1 K'Tinga
4
Probing the Enemy
D
Level 31 no-colors rybpwo-20/17/14/6/6/5
T-1 Optio
5
Confronting Corruption
D
Level 36 no-colors wropyb-20/19/16/7/6/6
T-1 Commodore Anton
6
Phaser Negotiations
C

Lvl-39 3r2o2w

wropyb-23/20/17/7/7/6

---

Lvl-38 3r2y2o

ryobpw-23/21/19/7/6/6

---

Lvl-38 3o2y2r

ryobpw-23/21/19/7/6/6
T-1 Commodore Anton,
T-1 Legatus,
T-1 Legatus
7
Final Encounter
S
Level 35 c/w-2/0
3b3y3o wgr-23/26/30
1 Weapons tbd... TOS Lasers Ameh Hvaid
T-1 D-7
Lvl #
Mission Title
CrewFight/ Diplomacy/ ShipBattle
EnemyDetails
Enemy(ies)
Scoring/Rewards/Prizes
Trivia
ck=1-7
| Mission # | Total # Prizes | 1st Win Prize | 2nd Win Prize | 3rd Win Prize | 4th Win Prize |
| --- | --- | --- | --- | --- | --- |
| 1 | 4 | 700 Dilithium [purple] | 1 1‑Pack [blue] | 1 Weapons tbd... TOS Lasers | 700 Dilithium [purple] |
| 2 | 3 | 1 1‑Pack [blue] | 100 Coins [gold] | 1 1‑Pack [blue] | 700 Dilithium [purple] |
| 3 | 4 | 1 1‑Pack [blue] | 700 Dilithium [purple] | 100 Coins [gold] | 1 1‑Pack [blue] |
| 4 | 4 | 700 Dilithium [purple] | 1 1‑Pack [blue] | 700 Dilithium [purple] | 700 Dilithium [purple] |
| 5 | 4 | Ensign Chekov | 700 Dilithium [purple] | 1 1‑Pack [blue] | 700 Dilithium [purple] |
| 6 | 4 | 700 Dilithium [purple] | 1 1‑Pack [blue] | 100 Coins [gold] | 700 Dilithium [purple] |
| 7 | 4 | 100 Coins [gold] | 1 1‑Pack [blue] | 700 Dilithium [purple] | 1 1‑Pack [blue] |
| Mission # | Total # Prizes | 1st Win Prize | 2nd Win Prize | 3rd Win Prize | 4th Win Prize |
V·Up·E
Game Menus
Calendar
All Events
Story-TNG
Story-TOS
Story Sequence
Events Sequence
Arena Sequence
Main Menu
Crew Area
Stardock Area
Recruit Area
Archive Area
Alliance Area