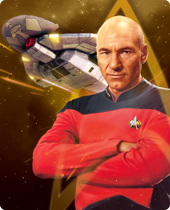 This page describes the Story called Cardassian Cooperation for TNG characters and starships. This Story contains 7 missions.
 	 	 	

 		 		 		 	

 



It yields 25 Rewards.
Unlike an Event (from the Events Sequence), the storyline is fundamentally a series of Easy missions designed to get the player used to the game.
Storyline
This is Act THREE of the five acts in the Category:Story TNG series.
Trivia
ck=1-7
| Lvl # | Mission Title | Level Type CrewFight/ Diplomacy/ ShipBattle | Storyline | #Prizes |
| --- | --- | --- | --- | --- |
| 1 | Founded Suspicion | D | After visiting the first of the three planets, Riker expresses his distrust of Nodroz to the Captain. | 4 |
| 2 | Cardassian's Generosity | D | The second planet is a Cardassian prison planet. This time, Picard will try a different approach. | 4 |
| 3 | Chapter 3 | C | To avoid an open conflict with the Cardassians, the crew designs a two-team strategy. | 3 |
| 4 | Distraction Maneuver | D | Riker and Worf meet Kovor Dale on the planet's surface. They'll need to divert his attention from the real target. | 4 |
| 5 | Caught Red-handed | C | LaForge and Data will discover that the Cardassians are difficult to deceive. | 4 |
| 6 | Plan B | C | Riker and Worf must do whatever it takes to escape, but Kovor is in their way. | 3 |
| 7 | Chapter 7 | S | The Enterprise crew must fight against the Cardassians to escape from the system alive. | 3 |
| Lvl # | Mission Title | Level Type CrewFight/ Diplomacy/ ShipBattle | Storyline | #Prizes |
Enemies
Trivia
ck=1-7
Scoring/Rewards/Prizes
Trivia
ck=1-7
| Mission # | Total # Prizes | 1st Win Prize | 2nd Win Prize | 3rd Win Prize | 4th Win Prize |
| --- | --- | --- | --- | --- | --- |
| 1 | 4 | 500 Dilithium [purple] | Cmdr. Riker | 500 Dilithium [purple] | 1 1‑Pack [blue] |
| 2 | 4 | Dr. Beverly Crusher | 500 Dilithium [purple] | 75 Coins [gold] | 500 Dilithium [purple] |
| 3 | 3 | 1 1‑Pack [blue] | -> | [[]] 1 T-1 TNG Cardassian SN/CH Hideki | 500 Dilithium [purple] |
| 4 | 4 | 500 Dilithium [purple] | 500 Dilithium [purple] | 1 1‑Pack [blue] | 75 Coins [gold] |
| 5 | 4 | 500 Dilithium [purple] | 1 1‑Pack [blue] | 500 Dilithium [purple] | 1 1‑Pack [blue] |
| 6 | 3 | 1 1‑Pack [blue] | -> | [[]] 1 T-1 TNG Klingon SN/KV Ship-Vor'Cha | 500 Dilithium [purple] |
| 7 | 3 | 500 Dilithium [purple] | [[]] 1 T-1 TNG Klingon SN/KV Ship-Vor'Cha | <- | 500 Dilithium [purple] |
| Mission # | Total # Prizes | 1st Win Prize | 2nd Win Prize | 3rd Win Prize | 4th Win Prize |
V·Up·E
Game Menus
Calendar
All Events
Story-TNG
Story-TOS
Story Sequence
Events Sequence
Arena Sequence
Main Menu
Crew Area
Stardock Area
Recruit Area
Archive Area
Alliance Area